infographic
Measuring Usability
Why is it that web sites often let people down? Is patience for bad design declining? What is the impact of good design on business?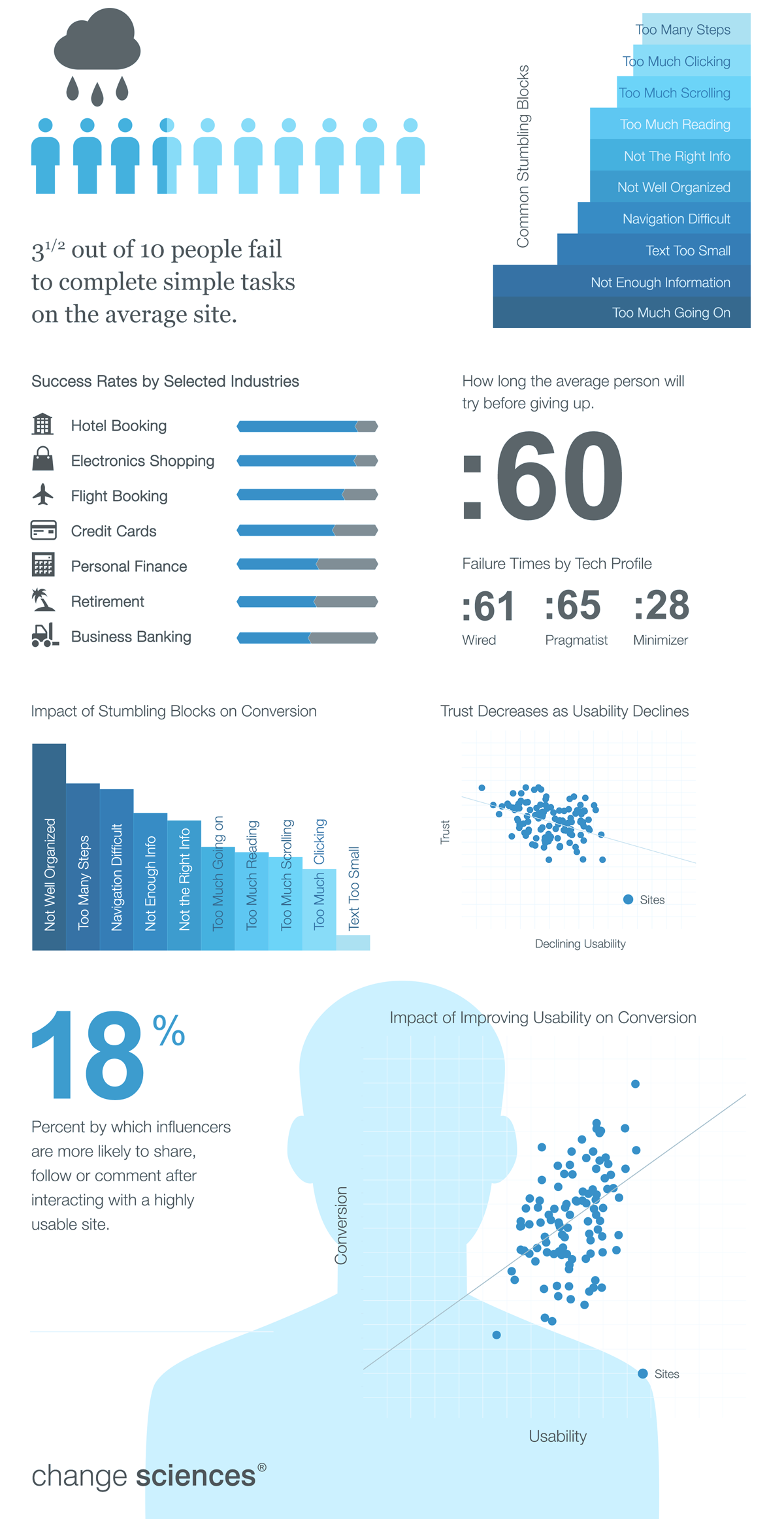 We've all been there. You go to a web site with a particular task in mind, like booking a hotel room or finding a new credit card. You visit the home page, you click a link, you enter information, you read, you back up and try again. After a while, you give up.
You are not alone. Some types of sites are better than others at getting people where they need to go online. For example, people are able to complete hotel booking roughly 80% of the time, but on business banking sites they are only able to complete common tasks 50% of the time.
It's not that people aren't trying. The average person using a web site will try for 60 seconds before giving up. And it isn't that people have trouble because they lack web skills. People who describe themselves as "wired" give up as often as everyone else. Instead, patience with cumbersome and confusing sites may be on the wane. Minimizers, a new type of web user we've identified, are people who are distancing themselves from technology to simplify their lives. In contrast to Wireds, Minimizers give up much sooner, on average after only 28 seconds, but give up just as often as Wireds.
Sites that improve usability by 1% will see a 0.5-1.5% jump in trust, and a 1-2% jump in conversion.
The two biggest complaints about web sites include both that there is "too much going on" and "not enough information", implying that many sites are long on clutter and short on meaning. Third and fourth on the list of user complaints are "text too small" and "navigation difficult," complaints which are consistent for Boomers, GenX, Millenials, Minimizers, Pragmatists and Wireds. The only exception is that Minimizers report problems with navigation nearly twice as much.
Explore: UX and Data