about
Mapping Online Happiness
Understanding the impact of happiness on online experience is part of a long-term, in-house research initiative.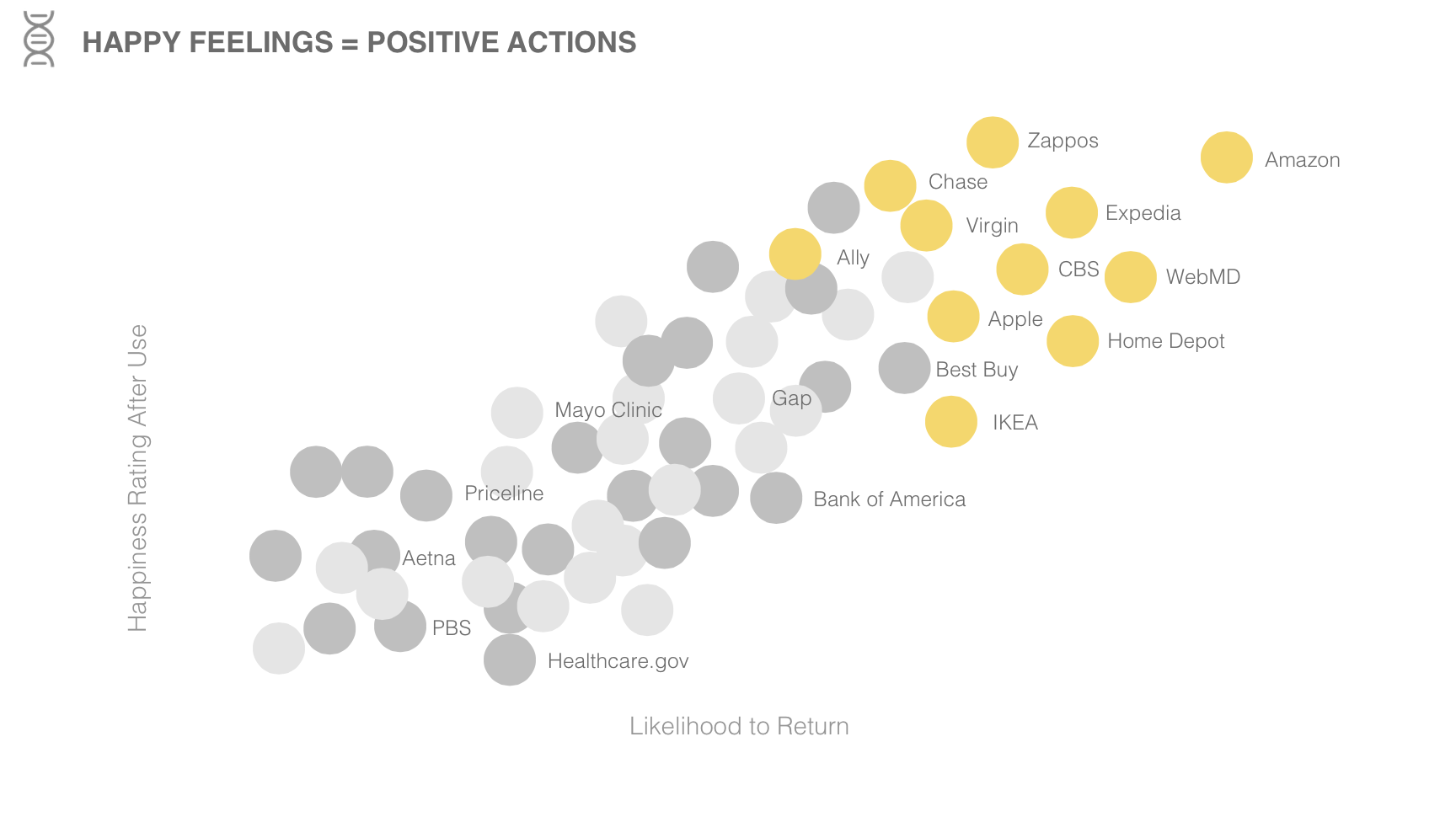 The Challenge
Countries are measuring subjective well-being alongside the GDP to better serve citizens. Companies have begun to consider employee happiness and other well-being markers as essential to business success. Medicine has long since moved to a wellness model. Recognizing the energy behind this trend, we set out to understand the impact of happiness on the online experience.
Strategy
Using our in-house research platform, Chemistry, we tracked behaviors, emotional responses, and other engagement factors on just over 250 top websites with nearly 8,000 people to better understand what drives happiness online. The study included desktop and mobile sites in e-commerce, travel, health, and financial services. The platform makes is possible to match interactions and behavior with emotion and intent.
Insights
In collecting this dataset, we analyzed emotional responses, activities, and intent during and after using a website. What we found is essential to understanding the connecting between positive emotion and technology.
The best sites make people happy. The sites that people identify as "better" than other sites, (and there aren't many—fewer than 5% of all the sites studied), also received high happiness ratings—90% and over. Amazon, Ally, and Apple are just a few of the sites that fall into this category.
Feeling happy produces higher engagement. When people felt happy using a website, they spent more time, tried out more things, and came away feeling like it was time well spent. Zappos is a great example of a site that felt familiar and encouraged play at the same time.
Happiness is contagious. Confirming what we know from the academic research on social media, and from Facebook's "experiment", happiness online is contagious. People who leave a site happy, are 34% more likely to recommend it.
Happiness can lead to brand attachment. Of course, a happy feeling is not the only reason people return to sites, but there is a strong relationship between the feeling and the subsequent behavior.
Sites that produce happiness register positive social sentiment. We cross-checked our happiest sites against social media sentiment. The brands that made it into the top 20 happiest sites in the study showed a strong positive trend in social sentiment.
The happy feeling that people have while using a site translates into a happy feeling they take away after using the site. There is a happiness halo effect.
Happy people engage more deeply with a site. Happy people are more likely to return, recommend, and share. Feeling happy opens up new possibilities and broadens experience.
Explore More: Happiness, Case Studies