post
New Research: How Medicare Websites Can Help Seniors
October 24th, 2017
Medicare is complex and seniors are often paying more and getting less than they should. Our recent study on Medicare websites shows that technology can help seniors find a plan that meets their needs, although there are ways that websites can improve.
The process of navigating Medicare and finding coverage that meets their needs can be daunting for seniors. Research by the Commonwealth Fund has shown that seniors face significant out-of-pocket costs for Medicare benefits. At Yale and MIT, researchers suggest that seniors have trouble selecting prescription plans that have the best value because of complex options.
In theory, Medicare websites should help seniors make better decisions and save money, but there has been little research on what seniors face and actually experience when they go online. We partnered with eHealth Insurance to conduct research to address this gap using SoundingBox, our online platform for measuring and comparing website experience.
During the month of July, 600 seniors were invited to participate. Each senior was shown one of five leading Medicare websites:
Medicare.com
Medicare.gov
eHealthMedicare.com
AARP Medicare
Kaiser Permanente Medicare
We asked participants to attempt two tasks on the site. First, we asked them to find a Medicare plan that would meet their needs. Then, participants we asked them to use the site to find when the Medicare enrollment period begins. We collected no personal information and each participant used the same date of birth, zip code, prescription drugs, preferred doctor, preferred pharmacy, frequency of doctor visits, frequency of out-of-state travel, and preferred budget to ensure an even comparison across all the sites.
Immediately after completing the two tasks, we asked participants a series of survey questions designed to measure their experience across six dimensions: usability, trust, informativeness, visual appeal, engagement and loyalty. SoundingBox also records how participants interacted on each site and qualitative data via open-ended questions.
The general pattern of results showed that sites fell into two groups, high performers and low performers. High performing sites were Medicare.com, eHealthMedicare.com, and AARP Medicare. Medicare.gov and Kaiser Permanente were the low performing sites.
As we dug into the qualitative data, the difference between the two groups became clear. High performing sites did a better job of guiding seniors through the process of finding a plan, which left people feeling more confident and informed.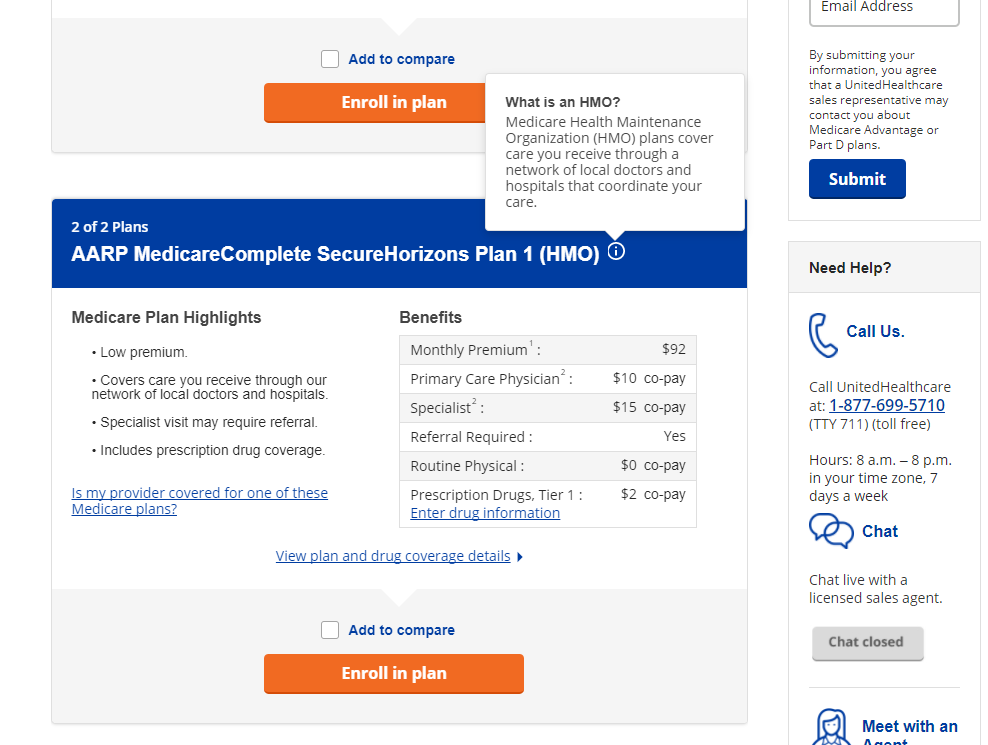 It offered buttons to define terms I might not understand. It guided me through the process with simple questions. Almost every page offered links to info about Medicare, customer service and telephone help if I needed it.
Low performing sites left people feeling overwhelmed and uninformed. People had much greater difficulty both in starting the process of finding a plan and in navigating the process.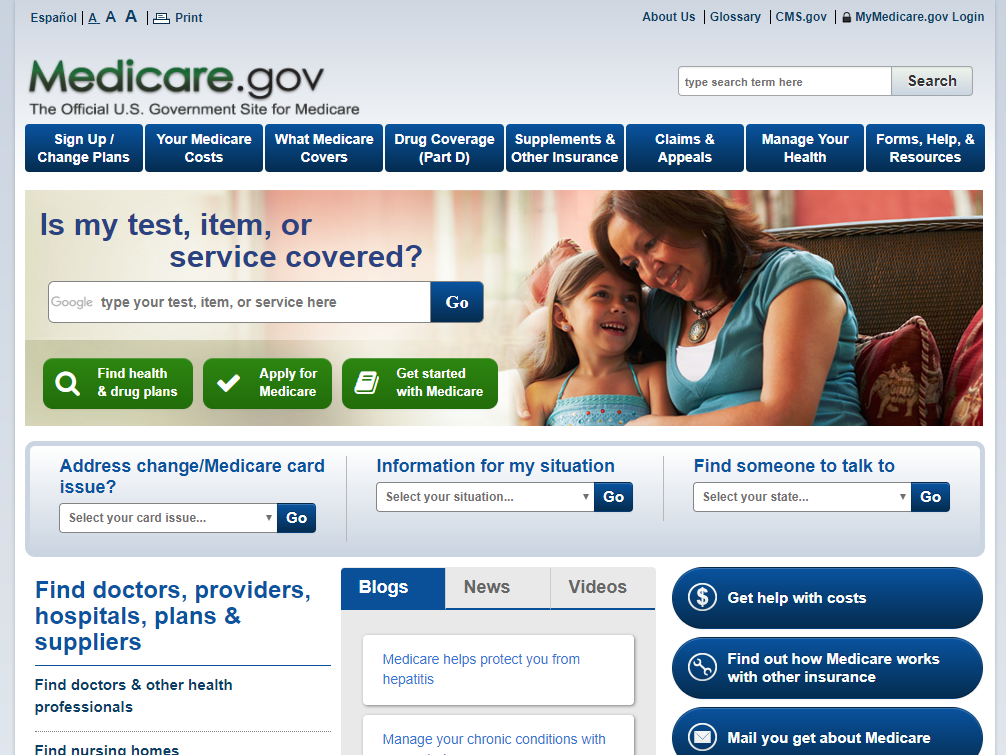 There is just so much information, you don't know where to begin.
We identified several challenges that seniors encountered when attempting to complete the tasks on the low performing sites:
Trouble figuring out how to get started finding a plan from the home page
Difficulty understanding Medicare terms due to a lack of contextual help during the plan selection process
Plan results which were lengthy and hard to filter due to unconventional interaction design
Perceived poor visual site design which impacted usability, engagement and credibility
Unclear benefits information that didn't highlight relevant details such as premiums and deductibles
All sites could improve on:
Making text easier to scan and prioritizing high value content
Making it easier to find answers to specific questions about Medicare, such as when the enrollment period begins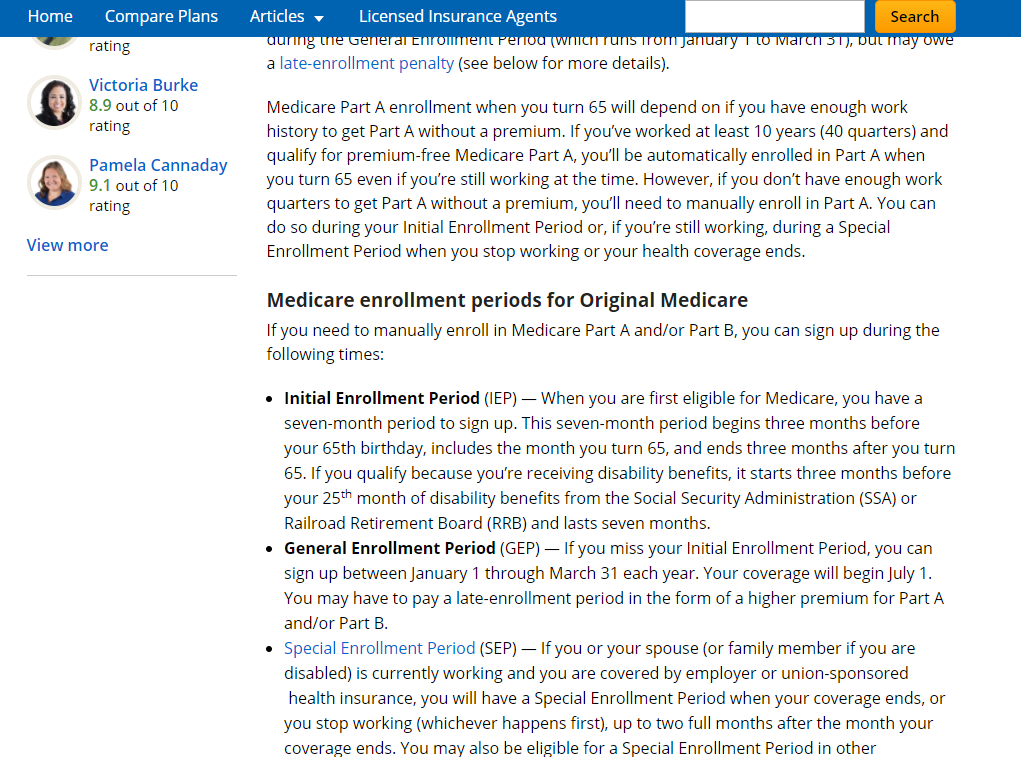 There was too much information when asking a specific question.
We identified design patterns on the high performing sites that helped seniors find a plan that met their needs:
Providing a clear starting point on the home page for finding a plan
Using contextual help to explain Medicare terms and how different factors, such as frequency of travel and doctor's visits, can affect what coverage a person might need
Providing adequate filters for narrowing down plan results or using a tool that recommends a manageable number of plans
Clean and simple result summaries that highlighted key benefits and details of the plans
Having an appealing visual design, which had a positive impact on perceptions of usability, engagement, and credibility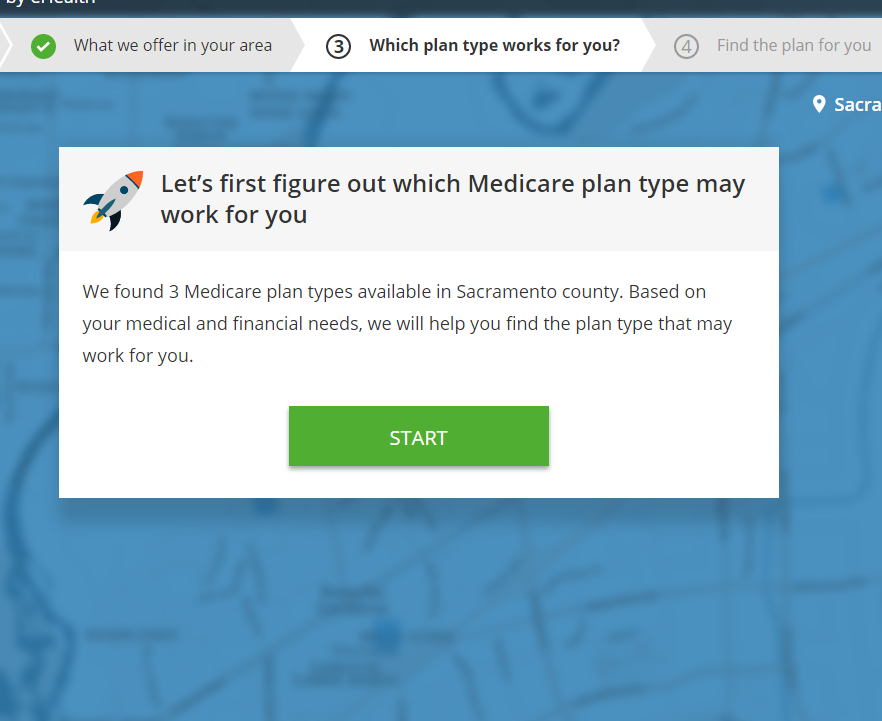 [The best thing about the site was the] questions asked directing you to the best option, which saves a great deal of time.
Medicare websites can help seniors navigate the process of finding a Medicare plan, although some are doing a better job of it than others. All the sites could work on reducing text and prioritizing high-value content.
This research sheds some light on some of the challenges seniors face on Medicare websites. It identifies some high-performing design patterns and some lower-performing patterns. Design may also impact loyalty on Medicare websites. Participants in this study indicated they would be significantly more likely to return to the high performing sites compared to the low performing sites. A text analysis of the open-ended responses showed that ease of use and trust were the most cited reasons for why a participant would be likely to return.
I would use this website in the future because of how easy it was to use and because of how quickly I was able to be recommended a plan that fit my needs and wishes.
I would use this website...you're able to use it, and more importantly, you're able to trust the information that's provided on this website.
The study focused on tasks that were supported by all the sites, but just because a site performed poorly on these tasks doesn't necessarily mean that it's poor in general. In particular, Medicare.gov is attempting to support many different tasks, while the private Medicare broker and provider sites tend to be focused on fewer tasks, a major one being plan recommendations. Although it could be argued that finding a plan is perhaps the most important task for seniors looking to enroll in Medicare.
Medicare is a commitment we all make to our country's most vulnerable citizens who have given so much to all of us. This shouldn't end with legislation. It should also extend to the way that Medicare is delivered online.
For more information about this research or our services please get in touch below.